Regular price
$0.00 USD
Sale price
$17.99 USD
Unit price
per
Sale
Sold out
View full details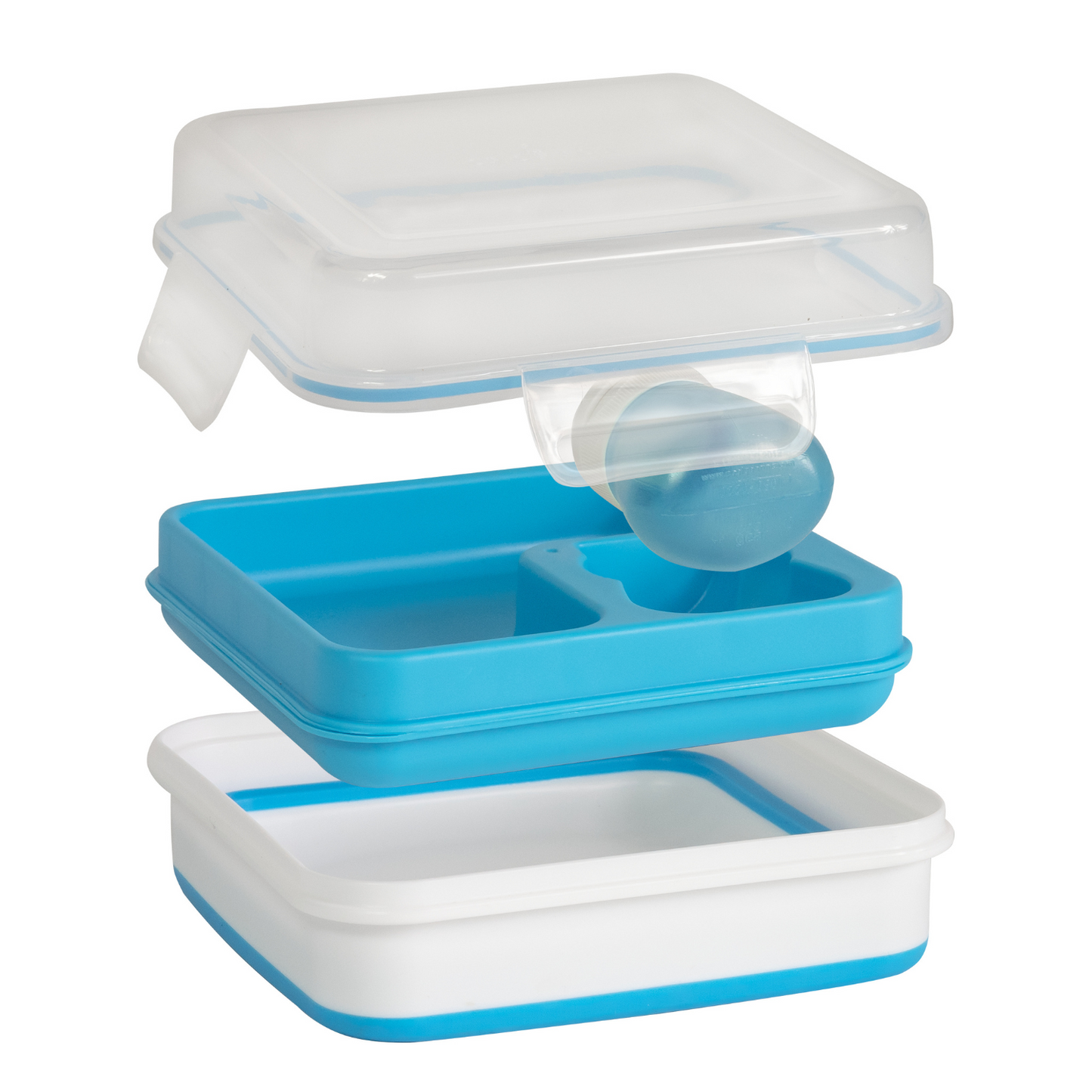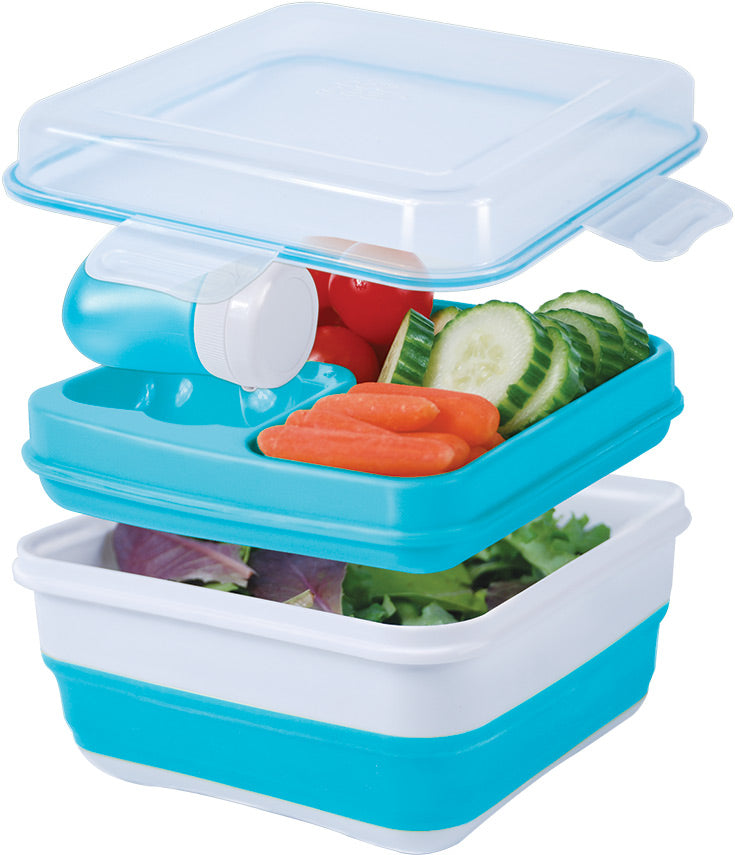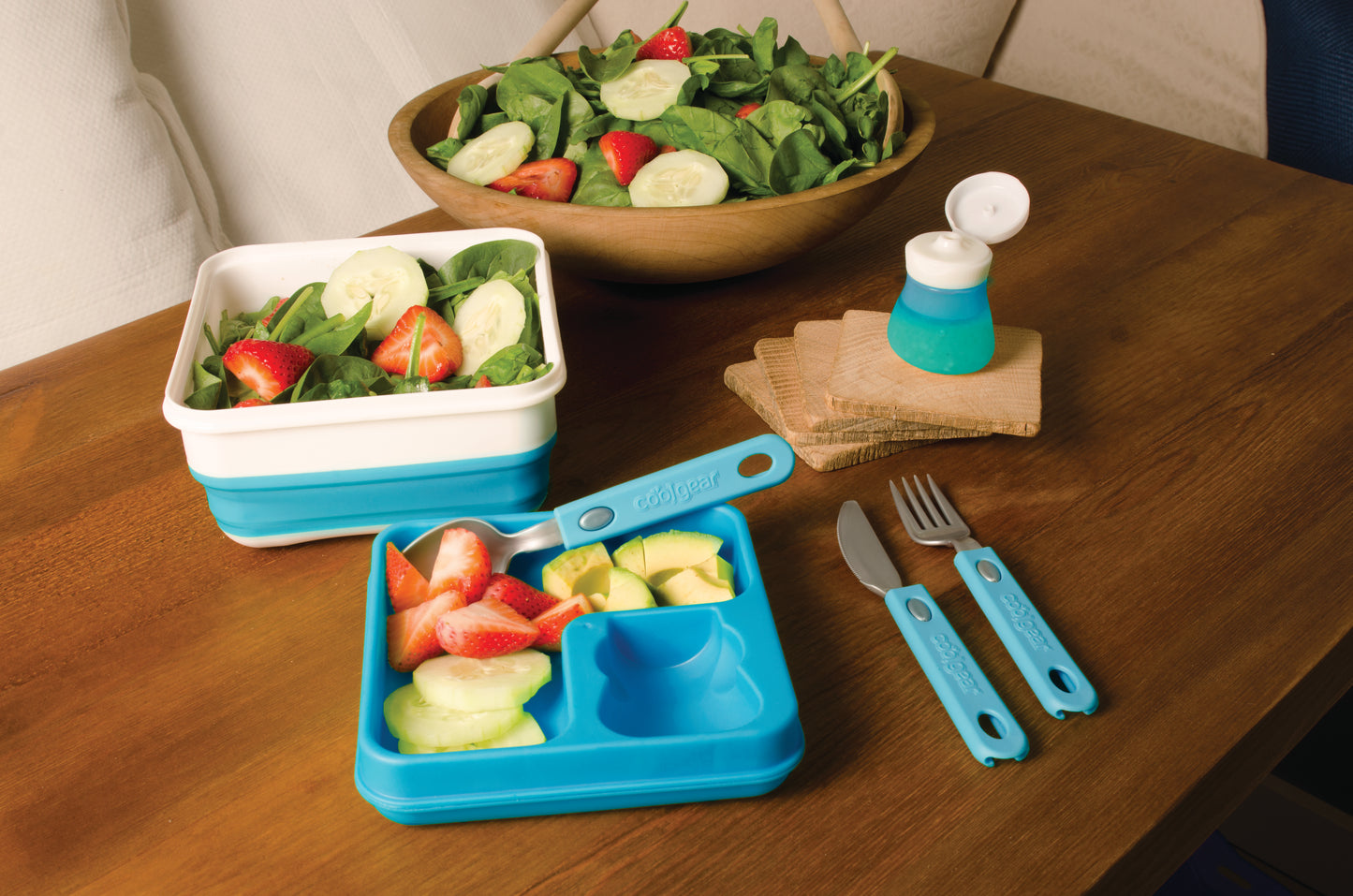 Product Details
About this item
Pack a healthy lunch & save space! The Cool Gear Expandable Salad Kit is the perfect collapsible food container for on-the-go lunches! Say goodbye to wilted lettuce & soggy croutons thanks to a 6.5 cup bowl, freezer gel tray with 2 compartments to keep your toppings separated and cool, and 2 fl. oz. squeezable salad dressing container! These air tight containers are leakproof and will keep you lunch fresh & crisp! This kit is a 2-pack that comes with a rectangle & square container! This container is top shelf dishwasher safe & the bottom bowl is microwave safe (please do not microwave the freezer tray)! Not for use with fatty foods.

SALAD MADE SIMPLE: Get your greens and make the healthy choice with the Expandable Salad Kit! The convenient design is tailored to making salad on the go a breeze. Made with BPA free plastic, the Expandable Salad Kit is perfect for portion control and keeps your salad fresh til lunchtime.
COLDER, LONGER: The freezer tray is filled with EZ-Freeze® freezer gel that keeps food cold up to 4 hours. The included dressing container has a leak-proof cap and fits securely into the tray. 
EASY STORAGE: The expandable design compresses for easy storage when not in use and doubles in size when you expand. Lid snaps tight to secure your salad on the go and keeps food fresh with an airtight seal.
MULTIPLE CONTAINERS: Main container - 6.5 Cups; Gel Tray - 1.5 Cups; Dressing: 2 Fl Oz. and all 3 containers are top-shelf dishwasher safe!
TWO-PACK: Get 1 square & 1 rectangle Expandable Salad Kit, perfect for sharing, meal prep, and more!
Because we knew you'd ask...




Water revitalizes. Water nourishes. Water heals.
Products related to this item
Regular price

Sale price

$17.99 USD

Unit price

per

Regular price

Sale price

$19.99 USD

Unit price

per

Regular price

$0.00 USD

Sale price

$14.99 USD

Unit price

per

Regular price

Sale price

$18.99 USD

Unit price

per

Regular price

Sale price

$21.99 USD

Unit price

per

Regular price

Sale price

$16.99 USD

Unit price

per

Regular price

Sale price

$18.99 USD

Unit price

per

Regular price

Sale price

$17.99 USD

Unit price

per

Regular price

Sale price

$27.99 USD

Unit price

per

Regular price

Sale price

$10.99 USD

Unit price

per

Regular price

Sale price

$8.99 USD

Unit price

per

Regular price

From $24.99 USD

Regular price

Sale price

From $24.99 USD

Unit price

per

Regular price

$0.00 USD

Sale price

$24.99 USD

Unit price

per

Regular price

Sale price

$21.99 USD

Unit price

per

Regular price

Sale price

$16.99 USD

Unit price

per

Regular price

Sale price

$21.99 USD

Unit price

per

Regular price

Sale price

$13.99 USD

Unit price

per

Regular price

Sale price

$23.99 USD

Unit price

per

Regular price

Sale price

$23.99 USD

Unit price

per

Regular price

Sale price

$23.99 USD

Unit price

per

Regular price

Sale price

$23.99 USD

Unit price

per

Regular price

Sale price

$19.99 USD

Unit price

per

Regular price

Sale price

$24.49 USD

Unit price

per